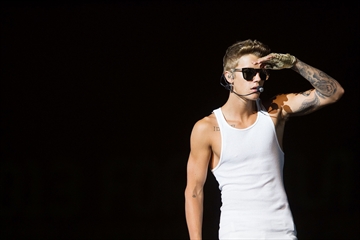 Since this snippet of sleeping Bieber was posted on YouTube Wednesday, it has racked up some two and a half million views. I've personally watched it five times to try to figure out what Justin is holding while he's sleeping. At first I thought it was a teddy bear, but now I realize it's just the tattoos on his arm.
See, ladies, this is what comes from A) using portrait mode when surreptitiously filming your . . . erm . . . friends, and B) not focusing properly.
Also, I was under the impression that anyone let within a meter of Justin had to sign triplicate vows of silence and hand over their phones, but perhaps the rules don't aren't enforced for everyone.
Some commenters on YouTube argue that the lady with the camera was a maid, but you can make up your own mind.
Earlier in the week, photos surfaced of Justin being escorted out of a Brazilian brothel, cleverly covered in a sheet. He reportedly brought two ladies with him.
However, TMZ says that the young lady wielding the camera phone was a party guest.
While in Brazil, "JB threw an after-party and invited roughly 50 people. At some point during the shindig, Justin fell asleep on a couch and one of the partygoers shot footage of the singer sleeping. Bieber is telling friends . . . he is completely creeped out by the video and is disappointed that he now has to defend himself against false hooker claims."
As lovely young woman leaves Justin's room in the morning, she makes sure she has a memento