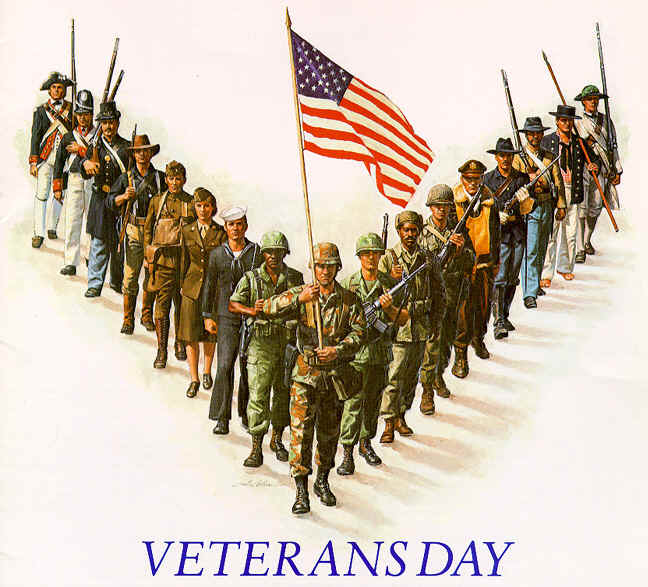 Here is a sampling of special deals and events honoring the military this Veterans Day weekend:
- The 2013 Tidewater Veterans Day Parade and Ceremony will be held Monday at the Oceanfront in Virginia Beach. The procession starts at 9 a.m. at 16th Street and Atlantic Avenue and ends at the Tidewater Veterans Memorial at 19th Street. A ceremony will be held at the memorial at 11 a.m.
- A Veterans Day ceremony will be hosted by the Mayor's Advisory Commission on Veterans Affairs at 2 p.m. Monday at Nauticus, 1 Waterside Drive, Norfolk. Retired sixth Master Chief Petty Officer of the Navy William H. Plackett will speak.
Veterans Day is a day when Americans honor and thank the people who have served in the armed forces. Its official date, Nov. 11, is the anniversary of the signing of the armistice that ended World War I in 1918.
The local observance of Veterans Day will take place on Monday at the Aiken County Veterans Memorial Park. The Marine Corps League's James L. Hammons Detachment No. 939 is the organizer of the ceremony, which will begin at 11 a.m.
"We want to show our support to all veterans, regardless of the era they served in," said Lane Parker. "We also want to honor the families of veterans."
The Aiken ceremony's keynote speaker will be Robert Murphy, who is the director of veteran and military student success at USC Aiken. Murphy is a Marine Corps veteran who completed more than 20 years of service as a chief warrant officer-4 and was a leader in multiple national and international efforts involving security and antiterrorism.
S.C. Rep Bill Taylor, R-Aiken, also will participate in the ceremony, and the Aiken Area Akademie Homeschool Band will perform.
There will be a presentation of colors by the Aiken Department of Public Safety Honor Guard.