Born:
October 22, 1919, Kermanshah, Iran
Died:
November 17, 2013, London, United Kingdom
Children:
Peter Lessing

,

Jean Wisdom

,

John Wisdom
Spouse:
Gottfried Lessing (m. 1945–1949)

,

Frank Wisdom (m. 1939–1943)
Awards:
Nobel Prize in Literature

,

Somerset Maugham Award
Inventive, brave, down-to-earth – she never hedged her bets or pulled her punches, doing everything with all her heart.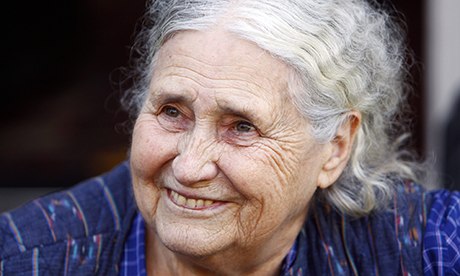 Wonderful Doris Lessing has died. You never expect such rock-solid features of the literary landscape to simply vanish. It's a shock.
I first encountered Lessing on a park bench in Paris in 1963. I was a student, living on baguettes, oranges and cheese, as one did, and suffering from a stomach ailment, as one did. My pal Alison Cunningham and I had been barred from our hostel during the day, so Alison was soothing my prostrate self by reading from The Golden Notebook, which was all the rage among such as us. Who knew we were reading a book that was soon to become iconic?
As we age, we face a choice of caricatures; for women writers vis à vis younger ones, it's Cruella De Vil versus Glinda the Good. I encountered my share of Cruellas along the way, but Doris Lessing was one of the Glindas. In that respect, she was an estimable model. And she was a model also for every writer coming from the back of beyond, demonstrating – as she so signally did – that you can be a nobody from nowhere, but, with talent, courage, perseverance through hard times, and a dollop of luck, you can scale the topmost storyheights.